Main content starts here, tab to start navigating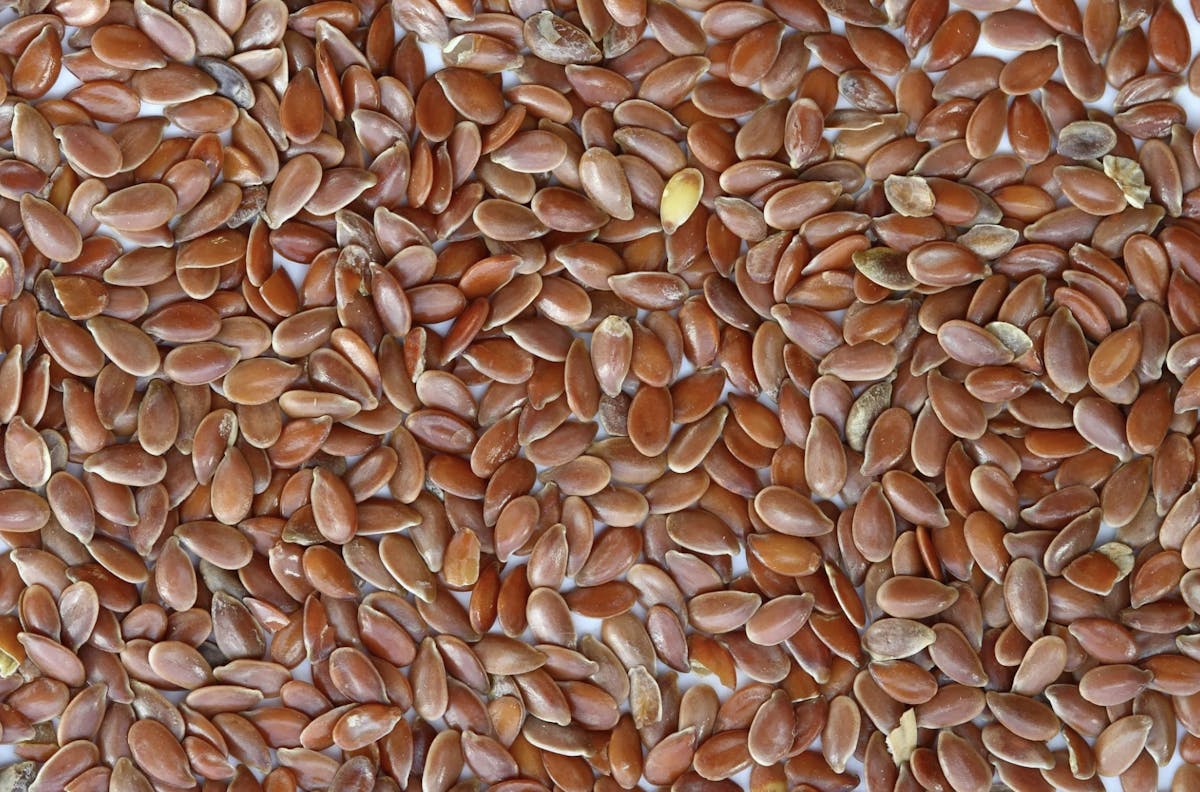 Flax
Our breads substituting ground Golden Organic Flax for eggs, make our Vegan breads and baked goods unusually HIGH in flax fiber bringing expanded benefits to you!
Flaxseeds (also called linseeds) are a rich source of micronutrients, dietary fiber, manganese, vitamin B1, and the essential fatty acid alpha-linolenic acid, also known as ALA or omega-3. The seeds come from flax, one of the oldest fiber crops in the world - known to have been cultivated in ancient Egypt and China.
Most nutrition experts recommend ground over whole flaxseed because the ground form is easier for your body to digest. Whole flaxseed may pass through your intestine undigested, which means you won't get all the benefits.
Flaxseed's health benefits come from the fact that it's high in fiber and omega-3 fatty acids, as well as phytochemicals called lignans. One tablespoon of ground flaxseed contains 2 grams of polyunsaturated fatty acids (includes the omega 3s) and 2 grams of dietary fiber and 37 calories.
Flaxseed is commonly used to improve digestive health or relieve constipation. Flaxseed may also help lower total blood cholesterol and low-density lipoprotein (LDL, or "bad") cholesterol levels, which may help reduce the risk of heart disease.
Is flaxseed the new wonder food? Preliminary studies show that it may help fight heart disease, diabetes and breast cancer:
Some call it one of the most powerful plant foods on the planet. There's some evidence it may help reduce your risk of heart disease, cancer, stroke, and diabetes. That's quite a tall order for a tiny seed that's been around for centuries.
Flaxseed was cultivated in Babylon as early as 3000 BC. In the 8th century, King Charlemagne believed so strongly in the health benefits of flaxseed that he passed laws requiring his subjects to consume it. Now, thirteen centuries later, some experts say we have preliminary research to back up what Charlemagne suspected.
Flaxseed is found in all kinds of today's foods from crackers to frozen waffles to oatmeal. The Flax Council estimates close to 300 new flax-based products were launched in the U.S. and Canada in 2010 alone. Not only has consumer demand for flaxseed grown, agricultural use has also increased. Flaxseed is what's used to feed all those chickens that are laying eggs with higher levels of omega-3 fatty acids.
Although flaxseed contains all sorts of healthy components, it owes its primary healthy reputation to three of them:
Omega-3 essential fatty acids, "good" fats that have been shown to have heart-healthy effects. Each tablespoon of ground flaxseed contains about 1.8 grams of plant omega-3s.
Lignans, which have both plant estrogen and antioxidant qualities. Flaxseed contains 75 to 800 times more lignans than other plant foods.
Fiber. Flaxseed contains both the soluble and insoluble types.
Flax is the #1 whole-food source of lignans, a phytonutrient associated with prolonged survival in cancer patients(especially breast cancer), having 800x more than any other food. Flax may be beneficial in suppressing the growth of breast and prostate cancers because when consumed, tumor cell proliferation goes down, cancer cell death increases, and c-erbB2 score is reduced. Combining flaxseed with dietary fat restriction may have an even greater effect on prostate cancer.
Taking only one tablespoon of ground flaxseed a day (there is one tablespoon ground flax for each egg replaced in our recipes) may help prevent and reverse diabetes.
Eating flaxseeds may also diminish skin sensitivity and improve skin barrier function and condition. Because lignans are activated by out gut bacteria, taking antibiotics may impair the production of the lignans so flax may help re-balance your digestive system.
Flax seeds are an excellent source of Omega-3 fatty acids, iron, zinc, copper, calcium, protein, potassium, magnesium, folate, soluble fiber and even boron.